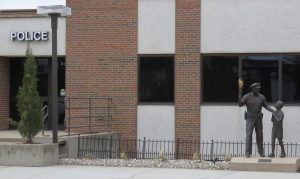 Some additional information on Wednesday's school threat in Brookings.
Police Lt. Marci Gebers says a male juvenile was arrested and is facing charges of disrupting school and making a terroristic threat.
The incident began when a hand-written note was found in a bathroom at that High School that included a possible threat to the school.
A release from the district says Brookings Police and High School administration were quickly able to identify the student responsible for the threat and took action to isolate that person.
Lt. Gebers says the juvenile was interviewed and admitted he had written the note.
it was determined by school administration and law enforcement that a school closure was not necessary.
Gebers says it was resolved in a very short time and Police Sgt. Joel Perry and School Resource Officer Josh Snyder did a great job in quickly resolving the situation.